Christmas was a blur. Loved the season and just didn't get to everything we wanted to do. Totally slacked on the baking and passing out treats. I have mixed emotions about that. I love the baking, but I don't want it in the house. And how am I to push it on unwary friends. Not nice. So I didn't make christmas treats. Except sugar cookies one night. Frosting. etc. Then one night I came home and Nathan was making gingerbread cookies. Yes Yes I am serious. I walk in the house and there he is with my bosch out and MIXing. He did a great job too. Wow. I guess I am not letting him express him self enough.
The boys were so excited and YY got the hint about Santa finally about a week before Christmas and has been gaining info ever since. Watched Rudolph TRNRD 5 times today. Keeps thinking that Santa is at church, because at the ward Christmas party, Santa disappeared into the building when he was done taking requests. Oh it is so fun. He is just a delightful child.
Ok so that last picture Tyler has the fingerlights. I put these
glasses
on my camera lens and it shows a snowman shaped halo around every bright light. This is COOL. My sis gave us a pair. Check em out. I think I am going to get them next year.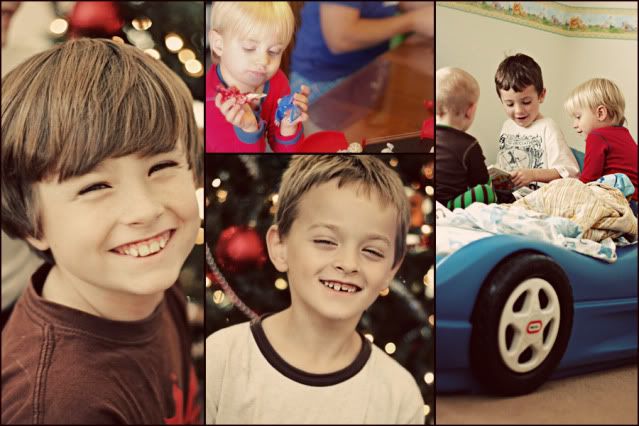 Oh YY got a new bed and the boys were all reading. Soo cute. And I got a picture of Oscar smiling genuinely at me.
New Year's Eve Was COLD
But we braved the weather about 4 times. Each time going in to get warm again.
Our neighbors across the street also did this and at 12 we finally had a duel. I guess you could call it. The neighborhood was definitely popping that night.