This year we decided to do our own day camp. We joined forces with a ward that did their cub scout day camp on their own last year. We had a great time. They have amazing leaders. And I am not exaggerating, IT was awesome. Everything ran so smoothly. Kids were happy, not a single behavior problem. The organization and the classes and activities were fun. And they got so many achievements done.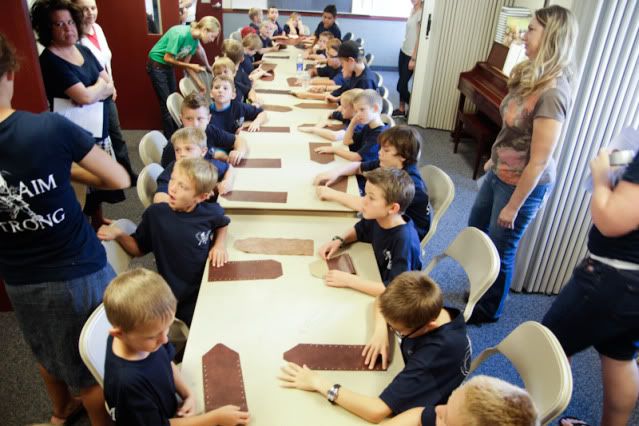 Our theme was David and Goliath. Recognizing who/what are the Goliaths in our lives. How can we being so small over come. The boys loved making their own pouches and receiving stones through out the days. To be used later. Keep watching.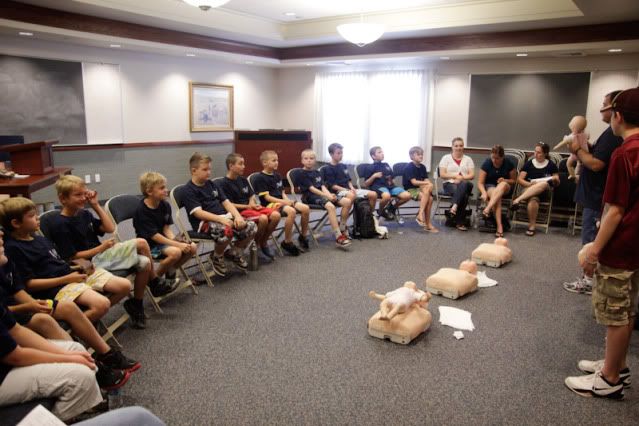 This was our CPR class. Great teachers and the boys all got opportunities to save lives. Ha
Ok this might have been the coolest part of camp. The Begays in the other ward have all this Indian Folklore props and equipment. He set up a huge teepee in the gym. It was beautiful. The boys learned how to peel logs to make poles. This shaving knife thing was pretty cool. The boys all got a turn using it.
Here is the inside. So cool. He told stories about the Native Americans.
Wesley is concentrating on the task. He gets this from his father. I love it when Nate doe

This picture is of course about 12 pictures all put together so that you can see how it felt to be inside the lodge.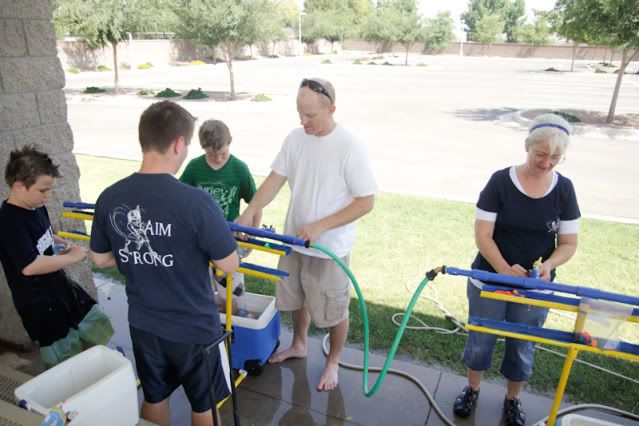 The boys were all asked to bring filled water balloons. I can't remember how many now. But we had hundreds. And this awesome filling station made it all possible. Water balloon fight was a must with the heat. UGG.
The boys all got to play 2 games of bowling and have pizza. Such a blast. Like I said, All the boys were so so good. Loved them all.
Look at those angels. We had about 26 kids.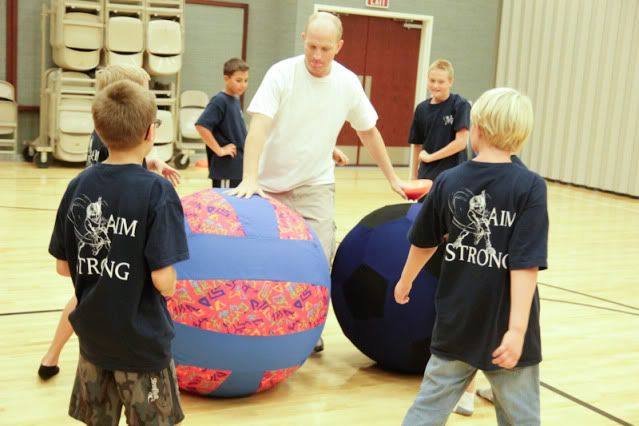 Nathan is the committee chair for cubscouts in the ward so he had a big role in planning and execution. Check it out. I think his tongue is sticking out. Ha
Wesley doesn't want to cut his hair. He doesn't like the scar on his forehead. Note for Future Wesley. I hope you get over this. You are so cute with short hair.
And we come to the purpose of the stones. We had tons of candy and prizes for them to buy with the stones. They received stones when they attended class quietly and participated. One group of boys completely cleaned up the obstacle course. Took them about 10 min. Would have taken the leaders an hour. It was amazing and such a blessing. Some of the leaders were running out of gas by the end of the day.. Not me, I was fine.
We were able to run the camp, provide lunch one of the days, all the snack shack items, materials, bowling... everything for 35.00 per kid. We are doing it again next year. Way better than being outside in the middle of the summer in the heat at the other place, that shall remain nameless. So there it is. Good times Good times.