Our annual Lake Powell trip was especially special to me this year because I got to practice photography a bunch. Loved it. Did little else. SOme people think that I missed out. No wake boarding, no volleyball. But I got great shots of other people doing it. It just didn't interest me. I am a big nerd and this trip proves it. But I got lots of fun beautiful shots. And I am HAPPY. IT was a great vacation.
This one of Nate was awesome because I didn't even know that I got the canyon behind him til I looked at it on the computer. Sweet. And he looks tough.
The group. We had 10 couples and 5 single guys. Fantastic people ALL.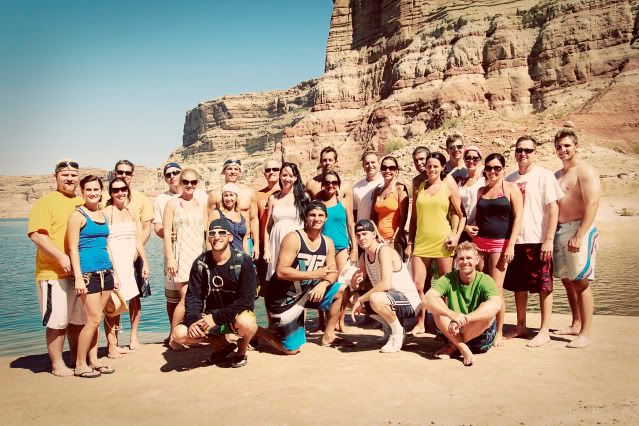 I am a bit horrified at this picture. I really didn't know how awful my outfit was. OOps. Oh well. Here we are playing Speak Piggie Speak. It is hilarious. Great fun.
Bo-Ga
Check out our back yard. So cool. Got to take pictures of the groups jumping.
Sweet Grab Nate!
Scream! this was so fun. I love love night time photography. It was so so dark. No moon. I love these images.